Yo hoo,
Yo peeps...whazzup. First of all, i would like to apologize for not putting in my Taiping friends in the previous post...people like Weiyang, Kevin , Gary, Mathan , Tan Sri Viknesh , Allan , Ranveer , Suresh, Justin Neoh and all have been part of my teenage life. Together we did a lot of stuff in school....remember the good ol hukuman helmet...and the bullying of AAD. I will always remember this phrase
Tharan : Eh, Mathan hows your yellow bike.?
Mathan : Not yellow la...mettalic Gold
How i wished i had taken pics of the Legendary AAD..... How Jai 'ramm' the bike one day after Mr OOn Maths Tuition.
I also miss the times me and Kicik used to run after tuition to the fish shop. To have the stupid race ...in which Ferrari the dumb ass always win. And also to get caught behind The Safety car.... ( ANy idea what happen to that girl ??? )
And i also miss the times Me and Ranveer used to go for Roti canai after Computer Class.....damn chun...i only can eat 2... Ranveer and Ronald can eat 3...celaka
And i also miss the Prefects room.. In which Weiyang burned some poor kid shirt... You know...i only duty there only once...i always lied to our group head... And i also remember dutying with Zombie...hehe. Dont know what happened to her...??
I always remember Raymond the Front Porch Head when i come late
THARAN....you always have some reason to give...Do you have a Book on excuses izzit..
And i also remember playing piano every friday for "Perhimpunan". I played the school song and Kok Sing played the Negaraku. And Gary will conduct the whole thing. Wei...i was the most reliable piano player..i only made 3 mistakes in my life. Remember my extra Verse i played...hahaa....Cant forget the faces of the teachers looing at me for that. But the principal smiled..so it was ok.
And i also remembered the incidents in lab...ha....Ervin broke the tap....Kups got Rumbled...and so on.
And the archives room....certainly lots of memories
Mr Phoons room....more memories
Chemistry tuition under Mr Yau...that was nice...remember the tea breaks we used to have...with the Char Siew Pau and the hot tea. and being served by that small boy and the Chain lady at the counter....
And i remember many many more things....
I remember the time when you guys hukuman helmet me....in FRONT OF MY MOM. but she was in the next class la dumbasses. Later at home
MOM : Eh i saw someone being whacked..
Tharan : Yup...
MOM : But, The person looked looked like you.
Tharan : NO laaaaaaa...not me..somebody else ( Cover UP )
I remember the times i had to be a good boy..coz my mom in school. Shit...that was hard.
i remember..i remember....shit man...there is a lot...
But before i end this post....i found this picture when searching for some book in the bookshelf at home. My mom is gonna kill me for posting this picture.haha. My mom picture many years ago..hahahaa...i am soooooo deaddd.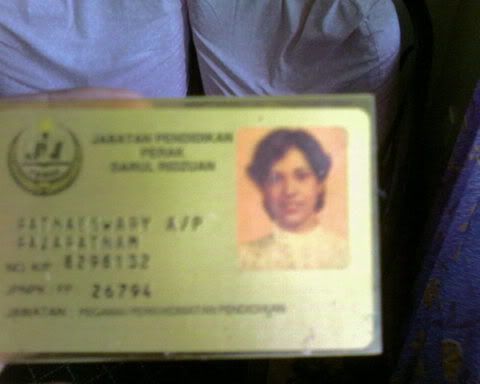 and my aeroplane set. This is a B747 from MAS