Yo people.....today was a boring day...got up at 12, then went to dengkil for Lunch. FOod was good, i had curry pork, Fabian had Sweet and sour fish , Chee way had Sambal pork , PIng had Some fish.... and Hsiu Fuhh had Wan Tan Hor, not small , not medium , not large...but MASSIVE..haha.
ANyway, i decided to post some pics of some Taiping Macho men, now all of them are in university....miss them all.
Bachelor Number 1
Kevin Lim, Owner of Peter Pan. Drives like a mad cow, knows many girls. Player of the year.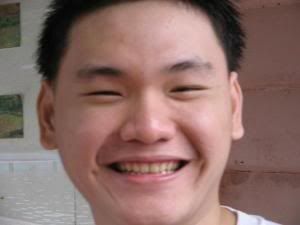 Bachelor NUmber 2
Jeneral Goh Weiyang, Computer Expert, girl expert, How to erase history expert. He is still single, plays tennis all of a sudden in Unimas, has a Fujitsu laptop. Introduced me to Sup Kambing opposite A rahman in Kamunting.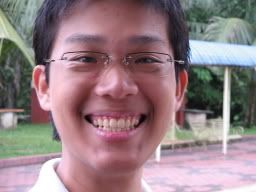 Bachelor NUmber 3
Allan Melvin. ooops...not bachelor anymore. Now in Perlis, knows how to handle guns , has got good stamina , good prefect.. knows CPR and so on..chun chun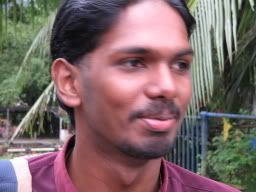 Bachelor NUmber 4
Justin Neoh, has a nice bike with the P flapping, now got nice phone , stays in lake View, Had the best phrase ' he took my book la' and the 'pok' sound..haha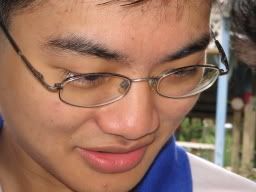 Bachelor Number 5
Suresh Aru, printing tychoon. Has a printing company and a literature expert. His literature work always was a great hit in class. Wants to be a doctor.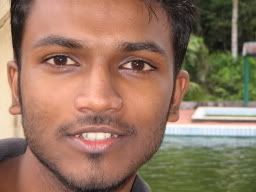 Bachelor Number 6
Yang Berbahagia, Tan Sri Viknesh Raj got his Tan Sri status after he grab it in class during Mr Yau chemistry session. HE also has the best gendang skills and is capable of making "nice nice' sounds. Wants to be a doctor too, ...might migrate to Sahara coz no rain there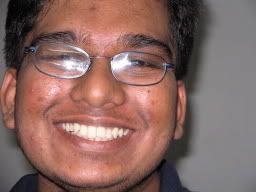 The Group Posing Macho with Goo the cow.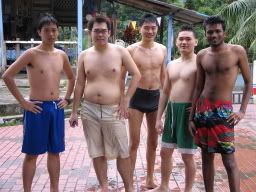 And weiyang......the girls paid Rm 10 to see me laaaaaa...not you.