WEll this week was certainly a very tiring week for me. Let me start with the ice breaking of Swim CLub. It went all very well, and we got drencehed to the max....not because of the rain...but because of the People...they were just throwing water all over the place. Chee Way got wet because he put som much water into a baloon and it burst as he was carrying it around..haha. funny la. Fabian was the director of the Ice breaking and I was the assistant to Adrian Hew, the Games Master. But the whole time, me PIng , Fuki spend our time putting water into baloons.hehe. And then dinner was served and we ate till our hearts content. There were lotssa food such as Friend Rice, Friend Me , sausages ( Looks like fuki's ahems ) and so on.
ICe breaking food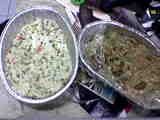 And as the 3rd game was going on...it started to rain cats and dogs. But we did not stop at there...we started throwing water at each other....everyone was drenched....evan Su chen..ahaha.
And also this week...i have to credit some people. First is Fabian ONg and Teoh Chee way for waking me up for my Lab. Chee way spent nearly 10 minutes knocking my door to wake me up.hehehe. And thanks to Aski too for waking me up on saturday..hehe.
Then on saturday , i went to help in Bukit Jalil for the INterfac games. I was the timekeeper...damn bored...everyone did their work boringly. Hehe...i also realised that the pool was the cleanest i have seen..damn chun wei. Anyway..gtg now...ciozzzz