after knowing her for 19 years, she finally left Malaysia to persue her studies in United Kingdom. She has been one of my closest cousins and i was very sad to see her leave...going to KL is not going to be same anymore. In fact, ..... sorry..cant just express in words .haih.
Deevina... i going to miss
1. Constant advises that you give me
2. Your miss calls
3. Your SMSes
4. fighting with you over small small things
5. Your songs that you send and downloaded to me. Yeah.i like oldies.
6. Your Ipod
7. Your scoldings for not repliying your SMSes
8. Your constatant rants on which girl i am gonna marry
9.... errr katte stories.??hahaha
10. Our outings in one utama
11. Our badminton sessions...in which you will shout at me for smashing and all..:P
Anyway, take care of yourself...
Talking on the phone before leaving.....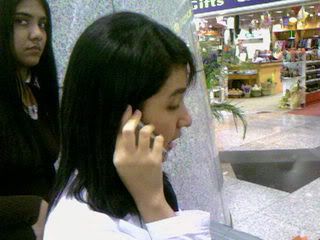 leaving.....she is in the middle. Carrying her Laptop bag with apple in it.Damn..it was heavy.